---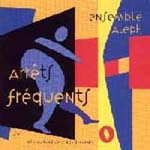 Christophe Roy
violoncelle
Jean Charles François
percussion
Françoise Matringe
piano
Dominique Clément
clarinette
Sylvie Drouin
piano, accordéon, échantillonneur
Monica Jordan
voix
D'abord présenté sous forme de spectacle, "Arrêts fréquents" est une invitation à découvrir 71 pièces (de 3" à 1'30") dont 68 créations de compositeurs contemporains, et 3 pièces signées John Cage, Kurt Schwitters et Anton Webern.
Musique contemporaine certe, musique pleine de verve, musique d'arrêt...
First heard live in performance, "Arrêts fréquents" invites you to discover 71 short pieces (from 3" to 1'30''). These are creations from contemporary composers with the exception of three, which were written by John Cage, Anton Webern and Kurt Schwitters respectively.
It is overtly contemporary music, full of flair, full of pauses.